Les Chocolats de Genevieve
Genevieve Lemarchand makes chocolates in her quiet Roberts Creek kitchen amidst the woods of the Sunshine Coast.
Trained in the technique of cholate making in Vancouver, she was inspired by the famous French Chocolatier, Bernachon, to develop her own ganaches, using the best natural products - NO additives, preservatives, or sugar added. She uses local honey instead. Her chocolate is carefully selected - imported from France (Valrhona and Cocao Barry grands crus). The fillings are intense ganaches, flavoured with fruit and herbs grown in her garden, specialty teas from TearoomT, organic coffee from Strait Coffee, and nutty pralines.
Don Genova, CBC food critic finds them "absolutely delicioius". Genevieve has received extensive local, provincial, national and international media acclaim for the perfect naughtiness of her Kamasutra chocolates.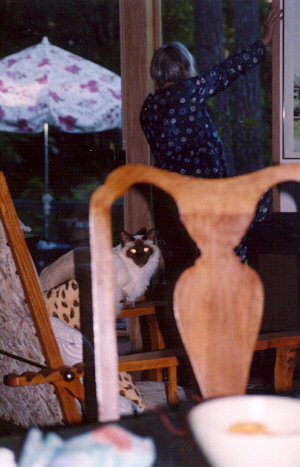 All chocolates should be kept refrigerated since they contain no preservatives.
Moulded Chocolates
Filled with naturally flavoured GANACHES, they are Exotic, Fruity, Flowery, Intense...
Just Chocolate
Blackcurrent
Raspberry
Blackberry/Cardamom
Osmanthus Oolong
Lavender-Earl
Mint-Lavender
Orange
Etheopian Expresso
Chai
Praline
Chestnut (Christmas only)
La Cuisine de Genevieve
Roberts Creek, BC Canada
604-885-4617