---
Isabella Colalillo Kates: Links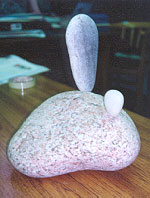 These web links are all connected to my work:
Babelfish - translates speech from one language to another.

Holistic and Soul Education

Holistic Education. Breaking New Ground: Holistic Learning, a conference in Toronto Canada, next in 2009. Spurred on by the expanding wave of interest in holistic learning and teaching these conferences are soul food for personal and professional development. Conferences brings together educators, learners, researchers, psychologists and therapists, arts practitioners &artists , philosophers and authors who share an interest in holistic learning theory and practice.

Dr. John P. (Jack) Miller is a foremost thinker, writer and educator of the holistic paradigm. Jack teaches at OISE/UT and is the chair of the Holistic Education Conferences Holistic Learning: Breaking New Ground held every two years in Toronto. The two web sites below discuss his work.

OISE/UT - OISE (The Ontario Institute for Studies in Education at the University of Toronto). OISE/UT is a centre of excellence for graduate studies, research, field development, initial and continuing teacher education in Ontario. It also is a central and integral part of the University of Toronto with collaborative programs, joint appointments and linkages to a variety of professional faculties and departments.

Dr. Ramon Gallegos Nava is the author of numerous books on holistic education. In l992 he founded the Fundacion Internacional para la Educacion Holista to spread holistic education in Mexico and abroad. The Foundation hosts an annual conference in Guadalajara, Mexico, published books and offers a post graduate programme in holistic learning.

Centre for Partnership Studies

Riane Eisler, author of Tomorrow's Children &The Chalice and the Blade and the Partnership Way writes on cultural tranforsmation through partnership. An eminent philosopher, writer and educator she is at the forefront of the thinking that drives a whole systems transformation shift.

Visit the Office of the Caduceator and read the Global Declaration of Soul Education Clarence Harvey is the mind and soul behind soul education, and the Triangles in Education work. As the caduceator he shares his wisdom, knowledge and insights into the nature of the soul, soul teaching and methods for octavising the self. Very good for educators.

The Findhorn Foundation in Forres, Scotland hosted the first Soul in Education conference in October 2000. The conference theme, The Spirit of Learning was the first world conference on the theme of soul> This was followed by international conferences in Hungary, Hawaii (USA), Australia, Colorado(USA), and South Africa.

A private learning centre, founded in western Australia about seven years ago. The Booroonbin learning Centre is Australia's "only truly democratic school" for students aged 6 to 19 years. In this school the students create their own curriculum and find their own teachers.

Holistic Education Network of Tasmania

HENT: A showcase website with links to holistic education initiatives. This site collects and distributes information, ideas and projects for holistic educators. Read about past conferences, holistic maps and concepts and joining the lively discussion group.

Selia Karston's "The Spa"
Holistic Oasis on the web with a variety of resources to explore.

Great Ideas
Holistic ideas, projects and nature based initiatives are collected and reported at this eclectic web site.

If you explore the website you will find a link to all the chambers with the images, music, poetry and philosophy. I hope you are as inspired as I was.

Psykids - Institute for Child Learning

This is a site for those interested in children's spirituality and the intuitive arts.

Writing and the Arts

Association of Italian Canadian Writers

The Association of Italian Canadian Writers brings together a community of writers, critics, academics, and other artists who promote Italian Canadian writers and cultural ideas and experience.

Guernica: A unique and tantalising bi-lingual Canadian press that supports "Different Voices from many horizons". Writer and poet Antonio D'Alfonso moved the press from Montreal to Toronto and continues to publish amazing literary works form old and new voices, including my own.

Find out about Canadian poetry and poets. My web site along with those of other poets are linked here.

Micol Kates - visit her work in the VRV gallery.

Music and Healing

One of Canada's foremost talents. A wizardly musician, singer and songwritr, Brent has recently released another amazing cd Beyond Appearances. Visit his web site for more amazing truths about Brent. Brent Titcombe is also a healer, using musical toning. You can contact him through this site.

Therapy and Mental Imagery

The American Association for the Study of Mental Imagery , founded by Dr. John Thomas Adams Shaffer D.Div. and Anees Sheikh Ph.D. Their yearly conference keeps the mental imagery community in touch with new developments in therapy, education, medicine and other fields where mental imagery continues to uncover the unbounded human potential that resides in the human imagination.

Diana Denton Ph.D. is a leading educator and practitioner in the poetics of the heart. Diana teaches through imagery and visualisation and conducts workshops for people in all walks of life who want to expand their conection to the heart through the exploration of inner space

CAPT is a professional association of psychodynamic psychotherapists, training institutes, and organizations committed to the preservation, practice, study, and advancement of psychodynamic therapy.

Consciousness Studies

Integralis is a the new on-line journal exploring consciousness research particularly realted to integral psychology. Allan Combs, the founding editor heads a cast of editors and advisors among whom we find Ken Wilber and consciousness researcher Imants Baruss.

CAPT

www.psychodynamiccanada.org

Shamanic Work and Soul Education Programmes

Malidoma Some' is a Dagara shaman, from West Africa. He lives and works in North America. He holds advanced degrees in psychology and literature. His fascinating book Of Water and Spirit recounts the events leading to his shamanic initiation after he escaped from a Jesuit school to which he had been abducted. Some's timely social and educational contribution is in the area of youth initiation, especially in inner cities.

Martha and Todd Lucier offer unique and souful educational and wilderness experiences at their Northern Algonquin camp in Northern Ontario (Canada) The Luciers are also trained in ritual and shamanic journeys. Read from their their soul inspiring menu:"The Northern Edge is our home. The Edge is a welcoming sanctuary for nurturing yourself with healthy food, fresh air, intimate conversation, and unique learning opportunities. Travel with us in Algonquin Park and listen to the whispers of the spirits of nature and receive their ancient wisdom."

Healing the Earth and the Self

The Edward Bach Centre provides information about the Bach Remedies and their use. The Bach Centre in the UK advances the work of Dr. Bach, a British physician who in discovered the essential link between healing plants and human emotions. The Centre holds the patent for the 48 Bach Remedies, answers questions and offers information on training to become a Bach remedies consultant.

Earth First is an organisation dedicated to environmental protection and saving all aspects of the natural world. View their journal.

Greenpeace is a NGO operating internationally.Their work draws attention to projects and companies that threaten the natural environment. Check out their web site at:

Yes good news media is alive and well! UK based Positive News newspaper is published along with a magazine Living Lightly reports on holistic thinker, projects, ideas and initiatives that help us to develop peaceful social structures and support the healing of the earth. Read the good news on the web at :

In the past there have been sites for helping save the rain forests and for feeding hungry people - those sites are in transition just now - so try this site meanwhile to see what you can do to help the planet.


---